International Scientific Journal
University of Zagreb, Faculty of Mechanical Engineering and Naval Architecture
Ivana Lucica 5, Zagreb, Croatia
Transactions of FAMENA
Editor-in-Chief: B. Jerbić
Founding Editor: I. Alfirević
ISSN 1333-1124
Transactions of FAMENA will carry articles describing fundamental developments in the field of Mechanical Engineering and Naval Architecture on the theoretical, computational and experimental aspects.
Aims & Scope
Aerospace Engineering, Automotive Engineering, Biomechanics Energetics, Engineering Design, Experimental Methods, Industrial Engineering, Machine Tools and Machining, Materials Science, Mathematical Modelling and Simulation, Mechanical Design, Mechanics & Fluid Mechanics, 
Nanotechnology, Naval Architecture, Numerical Methods, Process Planning, Quality Assurance, Robotics & Mechatronics, 
Thermodynamics …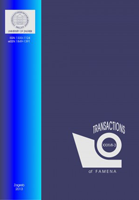 FAMENA, Vol. 45 No. 2, 2021
A. Vrgoč, Z. Tomičević, A. Zaplatić, F. Hild: Damage Analysis in Glass Fibre Reinforced Epoxy Resin via Digital Image Correlation

(pp.1-12)

D. Ribarić: A Simple and Efficient Three-Node Curved Beam Element for the Out-of-Plane Shear, Bending and Torsion, Based on the Linked Interpolation Concept

(pp.13-29)

M. Vicen, J. Bronček, O. Bokůvka, R. Nikolić, N. Rade: Tribological Behaviour of the Sucaslide Diamond-like Carbon Coating

(pp. 31-40)

M. Ahmed: Techniques for Mesh Independent Displacement Recovery in Elastic Finite Element Solutions

(pp. 41-58)

Z. He, W. Tang, S. Sun: A Model for Analysis of Time-Varying Mesh Stiffness of Helical Gears with Misalignment Errors

(pp. 59-73)

O. Iskrenovic-Momcilovic: A Discrete-Time Sliding Mode Controller for the Fermentation Process

(pp. 75-88)

J. Zhang, J. Gan, Y. Zeng: Application of a Probability Model Based on Paris' Law in Assessing Fatigue Life of Marine High-Strength Steel Structures

(pp. 89-100)

I. Švagždytė, S. Borodinas, A. Kilikevičius, V. Mokšin: Investigation Into Levitating Polishing Disc Used for Flat Surface Finishing

(pp. 101-110)

News: Professor Hrvoje Kozmar – recipient of the Croatian Academy of Sciences and Arts Award

(pp. 111-112)

In memoriam, Nekrolog, Obituarij: In Memoriam Mirko Husnjak, PhD, a tenured professor in retirement

(pp. 113-114)
Full text articles at Hrcak, Portal of scientific journals of Croatia. 

CiteScore: 1.4
Impact Factor: 0.743
5-Year Impact Factor: 0.793
Source Normalized Impact per Paper (SNIP): 0.571
SCImago Journal Rank (SJR): 0.209
Transactions of FAMENA (ISSN 1333-1124 (Print), ISSN 1849-1391 (Online)) is a peer-reviewed, international journal presenting state-of-the-art research in the area of mechanical engineering and naval architectures, and is published four time per year.
High visibility: indexed in WOS – Web of Science, Scopus and other major databases and archiving systems.
Open access, rapid publication and  peer-reviewed manuscripts.
University of Zagreb, Faculty of Mechanical Engineering and Naval Architecture
Ivana Lucica 5, 10002 Zagreb, Croatia
"Everyone can write, but not everyone is a writer. What makes the difference is the keen eye for detail and beauty."