International Scientific Journal
University of Zagreb, Faculty of Mechanical Engineering and Naval Architecture
Ivana Lucica 5, Zagreb, Croatia
Transactions of FAMENA
Editor-in-Chief: I. Alfirević
Co-Editor: B. Jerbić
ISSN 1333-1124
Transactions of FAMENA will carry articles describing fundamental developments in the field of Mechanical Engineering and Naval Architecture on the theoretical, computational and experimental aspects.
Aims & Scope
Aerospace Engineering, Automotive Engineering, Biomechanics Energetics, Engineering Design, Experimental Methods, Industrial Engineering, Machine Tools and Machining, Materials Science, Mathematical Modelling and Simulation, Mechanical Design, Mechanics & Fluid Mechanics, 
Nanotechnology, Naval Architecture, Numerical Methods, Process Planning, Quality Assurance, Robotics & Mechatronics, 
Thermodynamics …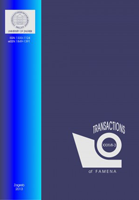 FAMENA, Issue 4, Year 42, Zagreb 2018
J. Čapek, K. Kolařík, M. Neslušan, Z. Pitrmuc, L. Beránek, K. Trojan, J. Němeček, N. Ganev, J. Kyncl, P. Mikeš: Surface Integrity after Turning a Duplex Stainless Steel with Respect to Tool Geometry
O. Iskrenovic-Momcilovic: Discrete-Time Sliding Mode Control with Integral Compensation of Output Error
J. Zhou, J. Gao, K. Wang, Y. Liao: Design Optimization of a Disc Brake Based on a Multi-Objective Optimization Algorithm and Analytic Hierarchy Process Method
Z. He, W. Tang, T. Lin, S. Shizheng: Modal Analysis and an Experimental Study Into a Marine Gearbox Featuring Confluence Transmission
R. G. S. Nixon, R. S., B. S. Mohanty: Characterization of a Friction Surfaced Stainless Steel Coating on Medium Carbon Steel
M. S. Motogna, D. Moldovanu, F. Mariasiu: Numerical Analysis of Fuel Flow Patterns at the Nozzle Exit Considering Different Fuels and Operating Parameters of a Diesel Engine
D. Sivanesan, U. Natarajan, V. C. S. Gandhi: Experimental and Finite Element Studies of a Soft Robot Finger Material – a Contact Mechanics Approach
C. Xia, L. Cheng, C. L., W. Jiao, Di Zhang: Hydraulic Characteristics and Measurement of Rotating Stall Suppression in a Waterjet Propulsion System
Professor Peter Wriggers, corresponding member of the Croatian Academy of Sciences and Arts
In Memoriam Professor Emeritus Dragutin Taboršak
Full text articles at Hrcak, Portal of scientific journals of Croatia. 

CiteScore: 0.85
Impact Factor: 0.797
5-Year Impact Factor: 0.637
Source Normalized Impact per Paper (SNIP): 1.209
SCImago Journal Rank (SJR): 0.29
Transactions of FAMENA (ISSN 1333-1124 (Print), ISSN 1849-1391 (Online)) is a peer-reviewed, international journal presenting state-of-the-art research in the area of mechanical engineering and naval architectures, and is published four time per year.
High visibility: indexed in WOS – Web of Science, Scopus and other major databases and archiving systems.
Open access, rapid publication and  peer-reviewed manuscripts.
University of Zagreb, Faculty of Mechanical Engineering and Naval Architecture
Ivana Lucica 5, 10002 Zagreb, Croatia
"Everyone can write, but not everyone is a writer. What makes the difference is the keen eye for detail and beauty."