International Scientific Journal
University of Zagreb, Faculty of Mechanical Engineering and Naval Architecture
Ivana Lucica 5, Zagreb, Croatia
Editor-in-Chief: Hrvoje Kozmar
Former Editors-in-Chief:
   Bojan Jerbić (2020-2022)                                                 Ivo Alfirević (2002-2020)
Founding Editor: Ivo Alfirević
ISSN 1333-1124                                                        eISSN 1849-1391
Transactions of FAMENA will carry articles describing fundamental developments in the field of Mechanical Engineering and Naval Architecture on the theoretical, computational and experimental aspects.
The editing of the Journal has been partly supported by the Ministry of Science and Education of the Republic of Croatia.
Aims & Scope
Aerospace Engineering, Automotive Engineering, Biomechanics Energetics, Engineering Design, Experimental Methods, Industrial Engineering, Machine Tools and Machining, Materials Science, Mathematical Modelling and Simulation, Mechanical Design, Mechanics & Fluid Mechanics,
Nanotechnology, Naval Architecture, Numerical Methods, Process Planning, Quality Assurance, Robotics & Mechatronics,
Thermodynamics …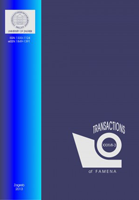 Vol. 47 No. 4, 2023 (online first)

CiteScore: 1.3
Impact Factor: 1.3
5-Year Impact Factor: 1.0
Source Normalized Impact per Paper (SNIP): 0.578
SCImago Journal Rank (SJR): 0.286
Transactions of FAMENA (ISSN 1333-1124 (Print), ISSN 1849-1391 (Online)) is a peer-reviewed, international journal presenting state-of-the-art research in the area of mechanical engineering and naval architectures, and is published four time per year.
High visibility: indexed in WOS – Web of Science, Scopus and other major databases and archiving systems.
Open access, rapid publication and  peer-reviewed manuscripts.
University of Zagreb, Faculty of Mechanical Engineering and Naval Architecture
Ivana Lucica 5, 10002 Zagreb, Croatia
"Everyone can write, but not everyone is a writer. What makes the difference is the keen eye for detail and beauty."