International Scientific Journal
University of Zagreb, Faculty of Mechanical Engineering and Naval Architecture
Ivana Lucica 5, Zagreb, Croatia
Transactions of FAMENA
Editor-in-Chief: I. Alfirević
Co-Editor: B. Jerbić
ISSN 1333-1124
Transactions of FAMENA will carry articles describing fundamental developments in the field of Mechanical Engineering and Naval Architecture on the theoretical, computational and experimental aspects.
Aims & Scope
Aerospace Engineering, Automotive Engineering, Biomechanics Energetics, Engineering Design, Experimental Methods, Industrial Engineering, Machine Tools and Machining, Materials Science, Mathematical Modelling and Simulation, Mechanical Design, Mechanics & Fluid Mechanics, 
Nanotechnology, Naval Architecture, Numerical Methods, Process Planning, Quality Assurance, Robotics & Mechatronics, 
Thermodynamics …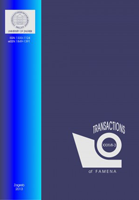 FAMENA, Issue 1, Year 43, Zagreb 2019
D. Barešić, Ž. Hederić, M. Hadžiselimović: Exploring the Possibilities of Adjusting Gensets to NATO Requirements

(pp. 1-14)

Z. Xiong, P. Luo, X. Yu: A Study on the Explicit Expression of Critical Stress and Euler Stress and its Application

(pp. 15-28)

D. Ma, Z. Ye, H. Yang: Tooth Surface Reconstruction and Tooth Profile Geometric Analysis of Circular Arc Tooth Trace Cylindrical Gears

(pp.29-44)

D. W. Jung, Y. J. Kim, Y. J. Yang, S. H. Kwon: Wave Run-Up Phenomenon on Offshore Platforms: Part 1. Tension Leg Platform

(pp.45-63)

N. Vladimir, I. Senjanović, N. Alujević, D. S. Cho, J. L. M. Laureano: Structural Integrity of an Aged Oil Tanker Converted Into the Port Oil Storage

(pp.65-77)

D. Kostić, D. Milošević, S. Stefanović, G. Jovanov, R. Cvejić: Improving the Operational Reliability Model of the "Nikola Tesla-Block A" Thermal Power Plant System by Applying an Integrated Maintenance Model

(pp.79-94)

A. Fertelli, M. Balta: Investigation Into Energy Savings in the Renewal of the Lighting System in University Campus Buildings

(pp.95-104)
Full text articles at Hrcak, Portal of scientific journals of Croatia. 

CiteScore: 0.85
Impact Factor: 0.797
5-Year Impact Factor: 0.637
Source Normalized Impact per Paper (SNIP): 1.209
SCImago Journal Rank (SJR): 0.29
Transactions of FAMENA (ISSN 1333-1124 (Print), ISSN 1849-1391 (Online)) is a peer-reviewed, international journal presenting state-of-the-art research in the area of mechanical engineering and naval architectures, and is published four time per year.
High visibility: indexed in WOS – Web of Science, Scopus and other major databases and archiving systems.
Open access, rapid publication and  peer-reviewed manuscripts.
University of Zagreb, Faculty of Mechanical Engineering and Naval Architecture
Ivana Lucica 5, 10002 Zagreb, Croatia
"Everyone can write, but not everyone is a writer. What makes the difference is the keen eye for detail and beauty."