International Scientific Journal
University of Zagreb, Faculty of Mechanical Engineering and Naval Architecture
Ivana Lucica 5, Zagreb, Croatia
Transactions of FAMENA
Editor-in-Chief: I. Alfirević
Co-Editor: B. Jerbić
ISSN 1333-1124
Transactions of FAMENA will carry articles describing fundamental developments in the field of Mechanical Engineering and Naval Architecture on the theoretical, computational and experimental aspects.
Aims & Scope
Aerospace Engineering, Automotive Engineering, Biomechanics Energetics, Engineering Design, Experimental Methods, Industrial Engineering, Machine Tools and Machining, Materials Science, Mathematical Modelling and Simulation, Mechanical Design, Mechanics & Fluid Mechanics, 
Nanotechnology, Naval Architecture, Numerical Methods, Process Planning, Quality Assurance, Robotics & Mechatronics, 
Thermodynamics …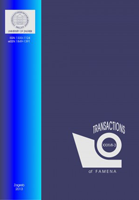 FAMENA, Issue 2, Year 43, Zagreb 2019
M. Gudlin, M. Hegedić, H. Cajner, N. Štefanić: Solving Problems of Interruptions and Multitasking in the Pharmacy of a Large Hospital Centre (pp.1-18)
R. Nowzari: Numerical Analysis of a Photovoltaic Module Integrated with Various Water Cooling Systems (pp.19-30)
F. Haas, A. Suárez, F. Cus, U. Zuperl: Platform for Monitoring and Comparing Machining Processes in Terms of Energy Efficiency (pp.31-47)
Z. Liu: Ship Course Keeping Using Different Sliding Mode Controllers (pp.49-60)
L. Varadha Rajan, V. Pavanan, K. Palaniswamy: Interdigitated Flow Channel on a Proton Exchange Membrane Fuel Cell Investigated Using the Response Surface Methodology (pp.61-72)
C. Bischof, D. Wilfinger: Big Data-Enhanced Risk Management

(pp.73-84)

İ. Tekaüt: Theoretical Evaluation of the Effect of Surfaces Processed with Abrasive Water Jet on Fatigue Life (pp.85-98)
In memoriam, Nekrolog: In Memoriam Ksenija Horvatić-Baldasar, PhD, retired associate professor (pp.99-100)
Full text articles at Hrcak, Portal of scientific journals of Croatia. 

CiteScore: 0.85
Impact Factor: 0.797
5-Year Impact Factor: 0.637
Source Normalized Impact per Paper (SNIP): 1.209
SCImago Journal Rank (SJR): 0.29
Transactions of FAMENA (ISSN 1333-1124 (Print), ISSN 1849-1391 (Online)) is a peer-reviewed, international journal presenting state-of-the-art research in the area of mechanical engineering and naval architectures, and is published four time per year.
High visibility: indexed in WOS – Web of Science, Scopus and other major databases and archiving systems.
Open access, rapid publication and  peer-reviewed manuscripts.
University of Zagreb, Faculty of Mechanical Engineering and Naval Architecture
Ivana Lucica 5, 10002 Zagreb, Croatia
"Everyone can write, but not everyone is a writer. What makes the difference is the keen eye for detail and beauty."