International Scientific Journal
University of Zagreb, Faculty of Mechanical Engineering and Naval Architecture
Ivana Lucica 5, Zagreb, Croatia
Transactions of FAMENA
Editor-in-Chief: B. Jerbić
Founding Editor: I. Alfirević
ISSN 1333-1124
Transactions of FAMENA will carry articles describing fundamental developments in the field of Mechanical Engineering and Naval Architecture on the theoretical, computational and experimental aspects.
Aims & Scope
Aerospace Engineering, Automotive Engineering, Biomechanics Energetics, Engineering Design, Experimental Methods, Industrial Engineering, Machine Tools and Machining, Materials Science, Mathematical Modelling and Simulation, Mechanical Design, Mechanics & Fluid Mechanics, 
Nanotechnology, Naval Architecture, Numerical Methods, Process Planning, Quality Assurance, Robotics & Mechatronics, 
Thermodynamics …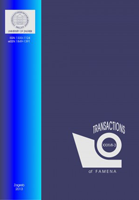 FAMENA, Vol. 44 No. 4, 2020
K. Grilec, L. Ćurković, I. Žmak: Wear Rate Evaluation of Sol-Gel TiO2-ZrO2 Films by Quantitative Depth Profile Analysis  (pp- 1-11)
Y. Wu, L. Hou, D. Ma, Y. Wei, L. Luo: Milling Machine Error Modelling and Analysis in the Machining of Circular-Arc-Tooth-Trace Cylindrical Gears (pp. 13-29)
M. Nikodijevic, Z. Stamenkovic, J. Petrovic, M. Kocic: Unsteady Fluid Flow and Heat Transfer Through a Porous Medium in a Horizontal Channel with an Inclined Magnetic Field (pp. 31-46)
H. B. Özerkan, C. Çoğun: Electrochemical Small Diameter Deep Hole Drilling of Powder Metal Steel (pp. 47-58)
Z. Qi, W. Guang, L. Lan, T. Rui: Contact Stress Prediction Model for Variable Hyperbolic Circular Arc Gear Based on the Optimized Kriging-Response Surface Model (pp. 59-74)
M. Zoubek, P. Poór, T. Broum, M. Šimon: Methodology Proposal for Storage Rationalization by Implementing Principles of Industry 4.0. in a Technology-Driven Warehouse (pp. 75-98)

J. Furch: The Model Prediction of Life Cycle Ownership Costs of Special Motor Vehicles (pp. 99-114)

M. Đelošević, G. Tepić: Buckling and Vibration of a Stepped Plate (pp.115-126) 
Book Presentation: Scientific Contribution to the Development of Ship and Offshore Structures SELECTED PAPERS (pp. 127-128)
Book Presentation: Technical English for Mechanical Engineering 1 (pp. 129-129)
Full text articles at Hrcak, Portal of scientific journals of Croatia. 

CiteScore: 1.4
Impact Factor: 0.58
5-Year Impact Factor: 0.706
Source Normalized Impact per Paper (SNIP): 0.663
SCImago Journal Rank (SJR): 0.257
Transactions of FAMENA (ISSN 1333-1124 (Print), ISSN 1849-1391 (Online)) is a peer-reviewed, international journal presenting state-of-the-art research in the area of mechanical engineering and naval architectures, and is published four time per year.
High visibility: indexed in WOS – Web of Science, Scopus and other major databases and archiving systems.
Open access, rapid publication and  peer-reviewed manuscripts.
University of Zagreb, Faculty of Mechanical Engineering and Naval Architecture
Ivana Lucica 5, 10002 Zagreb, Croatia
"Everyone can write, but not everyone is a writer. What makes the difference is the keen eye for detail and beauty."