International Scientific Journal
University of Zagreb, Faculty of Mechanical Engineering and Naval Architecture
Ivana Lucica 5, Zagreb, Croatia
Transactions of FAMENA
Editor-in-Chief: I. Alfirević
Co-Editor: B. Jerbić
ISSN 1333-1124
Transactions of FAMENA will carry articles describing fundamental developments in the field of Mechanical Engineering and Naval Architecture on the theoretical, computational and experimental aspects.
Aims & Scope
Aerospace Engineering, Automotive Engineering, Biomechanics Energetics, Engineering Design, Experimental Methods, Industrial Engineering, Machine Tools and Machining, Materials Science, Mathematical Modelling and Simulation, Mechanical Design, Mechanics & Fluid Mechanics, 
Nanotechnology, Naval Architecture, Numerical Methods, Process Planning, Quality Assurance, Robotics & Mechatronics, 
Thermodynamics …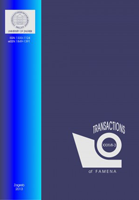 FAMENA, Issue 4, Year 43, Zagreb 2019
T. Haramina, L. Fulanović, J. Macan: Effect of Weathering on Dynamic Mechanical Properties of the Multilayer Polyamide//Ethylene Vinyl Alcohol Copolymer//Polyamide//Polyethylene Film (pp. 1-16)
S. Rešković, B. Grizelj, T. Brlić, M. Balenović: The Application of a Factorial Experiment with Repeated Measurements in the Investigation of Parameters Influencing the Properties of Niobium Microalloyed Cold Drawn Welded Steel Tubes (pp. 17-26)
G. Tepić, B. Lalić, I. Tanackov, S. Sremac, S. Milisavljević, M. Kostelac: Numerical Model of Fragmentation Hazards Caused by a Tank Explosion (pp. 27-41)
M. Klaić, D. Brezak, T. Staroveški, Z. Murat: On-Line Workpiece Hardness Monitoring in Stone Machining (pp. 43-53)
L. Kyzioł: Dynamic Properties of 40HM Steels at High Strain Rates (pp. 55-68)
A. Ralys, V. Mokšin: Numerical Simulation of a Cavitating Pulsating Water Jet Used for Removing Contaminants from Metal Surfaces (pp. 69-80)
Y. Sui, X. Zhang, L. Guo, D. Xu: Microstructural Study of High Temperature Creep in Q460E Steel Based on the Solidification Method (pp. 81-90)
N. Gurusamy, J. Natarajan, P. K. Palaniappan: Parameter Optimization of the CNC Wire-Cut EDM Process for Machining Aluminium 6063-B4C Metal Matrix Composites (pp. 91-108)
D. Đurđević, S. Manasijević, M. Miljuš: Rationalization of a Core Warehouse in the Casting Plant: A Case Study (pp. 109-121)
Ispravak: Article retraction (pp.122-122)
Vijest: Professor Hrvoje Jasak received the 2018 Annual Award for Science (pp. 123-124)
Full text articles at Hrcak, Portal of scientific journals of Croatia. 

CiteScore: 0.85
Impact Factor: 0.797
5-Year Impact Factor: 0.637
Source Normalized Impact per Paper (SNIP): 1.209
SCImago Journal Rank (SJR): 0.29
Transactions of FAMENA (ISSN 1333-1124 (Print), ISSN 1849-1391 (Online)) is a peer-reviewed, international journal presenting state-of-the-art research in the area of mechanical engineering and naval architectures, and is published four time per year.
High visibility: indexed in WOS – Web of Science, Scopus and other major databases and archiving systems.
Open access, rapid publication and  peer-reviewed manuscripts.
University of Zagreb, Faculty of Mechanical Engineering and Naval Architecture
Ivana Lucica 5, 10002 Zagreb, Croatia
"Everyone can write, but not everyone is a writer. What makes the difference is the keen eye for detail and beauty."